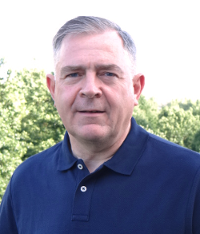 I'm Dominic Cronin. I'm an independent software consultant based in Amsterdam. I'm registered with the Kamer van Koophandel as Cronin Technology.
My work over the last decade or so has been focussed around SDL Tridion Sites implementations, (although it's gone through some name changes along the way). This work is diverse and interesting, and there's not a project that goes by without my getting to learn something new, while at the same time passing on experience and knowledge gained on previous jobs. Needless to say, in addition to skills and techniques that are very specific to Tridion, I'm also familiar with the range of other technical areas necessary to deliver a modern content-managed web site.
There's an active community around the SDL Tridion suite, and I'm an active member. I regularly speak at technical events, and I'm always pleased to talk to people who've read my blog posts or with whom I've interacted on Stack Exchange. I've been recognised with an SDL Tridion MVP award every year since its inception in 2010.
Although my native language is English, I'm also happy to work in Dutch for those customers who prefer it.
If you're interested in having me do some work for you or speak at your event, please get in touch.