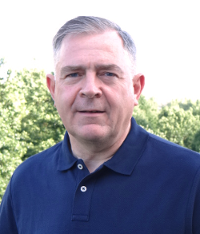 I'm Dominic Cronin, and Cronin Technology is my company. I'm based in Amsterdam and the company is registered with the Kamer van Koophandel as an Eenmanzaak, or "one man company". This construction allows me to work as an independent software consultant, and also to develop and publish my own software.
Over many years as a software specialist, I've worked with a wide variety of technologies. If I'm starting a fresh project of my own, I'm most likely to reach for Microsoft Visual Studio and to write code in C#. That said, the technology I use is often dictated by pre-existing choices made by my customers, and I'm happy that this keeps my various other skills active and up-to-date. I'm certainly not interested in holy wars over which stack is better; most of the differences are superficial anyway and we're fortunate that we live in a time when there's a rich array of really good software to choose from.
Similarly, although my preferred natural language is English, I'm also happy to work in Dutch for those customers who prefer it.
My work over the last decade or so has been focussed around the Tridion web content management system, or to give it its correct name, SDL Web. This work is diverse and interesting, and there's not a project that goes by without my getting to learn something new, while at the same time passing on experience and knowledge gained on previous jobs. There's an active community around the SDL Web suite, and I'm an active member. I regularly speak at technical events, and I'm always pleased to talk to people who've read my blog posts or with whom I've interacted on Stack Exchange. I've been recognised with an SDL Web MVP award every year since its inception in 2010 (when, of course, it was the SDL Tridion MVP award!)
If you're interested in having me do some work for you or speak at your event, please get in touch. It never hurts to ask, and who knows, maybe we'll end up doing something great!